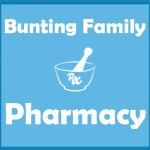 Since 2008, Bunting Family Pharmacy has served doctors and patients by providing a wide selection of quality prescription drugs. What began as a small family pharmacy in Northfield, NJ is today that same small family run pharmacy. The Bunting Family has and will never lose track of its core. Our patients. We take pride in knowing our patients, listening to them and having a deeper relationship beyond just being a "customer". Through the years our patients from Atlantic, Cape May, Cumberland and Ocean Counties have entrusted us with being their pharmacist of choice. We are born and raised here in South Jersey.

Bunting Family Pharmacy is a Full Service, Good Neighbor Pharmacy located in the heart of Northfield, NJ. We are staffed by 4 NJ Board Certified Pharmacy technicians. Four delivery drivers sercice both residential and business customers 6 days a week (Mon-Sat) with emergency deliveries available on Sundays. Besides serving residential communities throughout Atlantic County, Bunting Family Pharmacy is perfectly situated to provide immediate daily delivery service to all assisted living facilities, 55 and older housing complexes, and all apartment/condominium buildings in the area. The goal of Bunting Pharmacy is to connect our highly professional staff and delivery service with all local institutions that require a total coomitment to the health and well-being of our senior citizens
Bunting Family Pharmacy aims to provide a wide variety of compounded and traditional medications to doctors and patients. As a secondary goal, we seek to strengthen the connection between doctors, patients and pharmacists to produce the best possible outcomes. Our commitment to fostering quality relationships informs every area of our services:
We work with physicians to determine the right mix of products for their practice and create custom prescription pads).
We offer opportunities for continued education about compounded medications in general and treatments from Bunting Family Pharmacy specifically. These workshops and seminars are also great places for doctors to network with others in their field.
We deliver prescriptions directly to the patient's door whenever possible, saving the patient time and energy and ensuring that the medication reaches the person it was intended for.
We reach out to patients to make sure they understand how to properly use the medicine prescribed to them.
Bunting Family Pharmacy is ready to be your trusted pharmacy
We make it simple to get started.